Posted by Houses and Holes in Global macro
on Nov 3rd, 2011 | 29 comments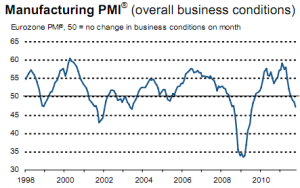 While markets remain focused on the debt travails and bailouts of Europe, the underlying economy is in deep trouble. In fact, the Eurozone is plunging into recession – fast. Last night's PMI was another shocker:
Conditions in the Eurozone manufacturing sector continued to weaken in October. At 47.1, down from 48.5 in September, the final Markit Eurozone Manufacturing PMI fell to its lowest level since July 2009 and below the flash estimate of 47.3. The PMI has remained below the neutral mark of 50.0 for three months. Signs of weakness are becoming increasingly apparent in the core nations, while the periphery remains mired in recession.
German manufacturing, one of the main drivers of the earlier Eurozone recovery, saw its PMI indicate contraction for the first time since September 2009. Rates of decline were the fastest for 27 months in both Austria and the Netherlands, while France signalled deterioration for the third month in a row. Rates of contraction accelerated sharply in Greece and Italy, with the performance of Italy deteriorating.
READ FULL POST HERE