Cattle ranchers, Native Americans and Mormons fear US state's chief engineer will allow 300-mile pipeline to tap groundwater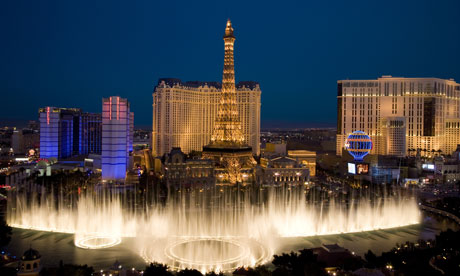 There was a time during the cold war when the Pentagon wanted to bury hundreds of nuclear missiles in the vast emptiness of
Nevada
, in case the
United States
came under attack from the Soviet Union. In a 21st-century version of an existential struggle in the desert, the city of Las Vegas wants to pump up to 300bn litres of
water
a year out of this landscape and transport it 300 miles south to the thirsty metropolis of casinos and golf courses.
The most advanced of three such projects as the US south-west struggles to adapt to recurring droughts, the pipeline could get the go-ahead on Thursday from the state's chief engineer.
Supporters say the $7bn (£4.4bn) project is a matter of life-or-death for Las Vegas, which, some projections suggest, could run out of drinking water in 20 years. Opponents of the pipeline say draining the desert of groundwater would destroy the livelihoods of the cattle ranchers, Native American tribes, and Mormon enterprises that call this expanse home, and reduce a vast swath of the state to a dust bowl.