It was five years ago that Bernard L. Madoff stepped forward to proclaim his real character. I was floored when this story broke (first post). And the act of fraud in general continues. JPM has recently again been under the microscope for hiring practices in China. JPM is also close to a deal for something in the neighbourhood of $2B as a settlement with the SEC and a rare criminal action.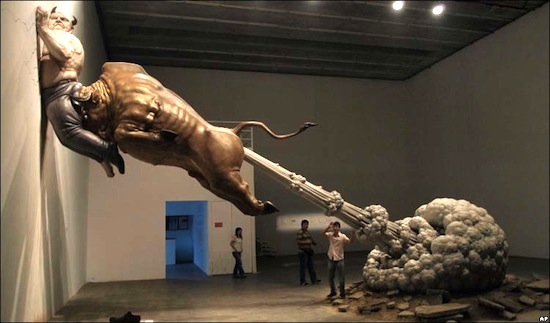 Today, some five years later, the BLM case continues to wind its way through the courts - there are the stories and tear jerking testimonies of lost fortunes and accompanying tales of hardship that are no less important or newsworthy now than at the time - however, it may be that not all is lost - investors may see as much as 2/3 of their investment.
Possibly one of the more memorable elements of this story is the sculpture from China depicting Bernie pinned to the wall by the raging bull ~ an illustration of the end game of Bernie playing the markets to their extreme. The initial premise and that which has persisted in that Bernie acted alone. No one else was involved. That has proved to be patently false. He sit firmly ensconced in the hallowed halls of the US justice system and life continues on the outside.
I am troubled by the continued expose of fraud and dishonesty. The capitalistic system
was born on the basis of the rule of law. The rule of law requires that the participants act in good faith, with integrity. The reality is modern society has become quite something else.
The financials management sector of the economy now accounts for more than the 15% of the globe's GDP. In the UK, 97% of the financial sector activity - it's business - is with itself. Only 3% of the economic activity is associated with the non-financial industry. They are in a business with themselves. Making money out of money. What about the real economy? Or is there really a difference? Finance is the economy. But finance at the moment is undermining the interest of their best customer in exchange for servicing themselves.
This is a societal problem. The current system is very broken. There needs to be a socially responsible financial system. What will the cost be to NOT being innovative in the financial systems? There is a need for diversity, and to build resiliency into the financial system.
The capitalist system have provided the unlimited opportunity to growth. The challenge is we live in a finite world.